Makalu
A workgroup class product
Download: Makalu presentation - PDF (in polish)
Makalu is a solution supporting group work in small and medium enterprises, based on open standards and tested software. It is a response to the today's world realities, where the advantage and successes of a company are determined by quick access to information and efficient communication. Our solution allows clients to concentrate on proper tasks instead of equipment, technology and potential threats.
Workgroup

In the 1980's the American industry invested a few hundred dollars in the development of IT technologies. Thanks to that the growth of FLOPS (Floating Point Operations Per Second) came to 1900 percent. Nevertheless, Morgan Stanley company estimated that work productivity increased approximately one percent per year only. Funds were laid out in the improvement of efficiency of single workers, while it was necessary to improve functioning of whole enterprises.
Characteristic
Makalu is not a product that can be found in a store. It is a thorughly checked and tested solution which can be successfully implemented in every company regardless of the kind of already functioning infrastructure or needs. Makalu is a method for creating from so far separated computers, printers and other devices an integrated work environment that permits data exchange, communication or more effective planning of tasks at the same time ensuring safety. Our product guarantees all services indispensable for the company's work:
Services
The heart of a group work product is Samba server functioning as a domain controller. Due to basing the enviromnent on opensource software Linux Gentoo, we economize on expensive licenses and yet ensure high efficiency and stability of the system. Samba software helps to connect stations with different operation systems (Unix, Windows, Mac) using a single protocol and share resources (such as files, printers etc.) between them. Every user has only one account in the whole system, which allows him or her, depending on authorization, to benefit from all the system's services:
Sharing files
Every user retains:
Private space: (USER_HOME) 10GB - a space where documents and private files are stored
Personal profile: Personal Profile: in this space all individual settings of a user are saved
Possibility of saving in a public space (PUBLIC): 10GB or in a temporary space (TEMP): 5GB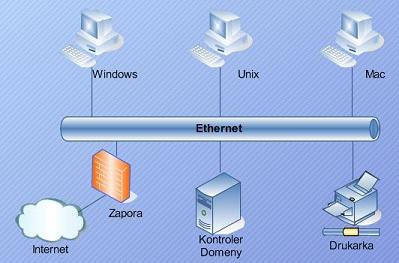 Sharing devices
Print server cups integrated with a domain controller enables:
sharing system printers with selected users
establishing limits of pages for users or printers
preventing from printing private files in colour
supervising individual and group expenses
Mail services
The mail server based on Postfix provides independence of external contractors. Functionalities:
ensures authorization of users who log on
Courier-IMAP enables access to messages stored on the server with the use of IMAP protocol (It is more advanced technology than POP3. Allows administrating folders and messages more efficiently)
provides users with access to a mail account through a web site
integrated anti-virus and anti-spam protection. Filtration of messages according to advanced principles such as: black lists, analysis of formal attributes or linguistic analysis
Backup
Due to the high importance of information contained in business correspondence, all incoming mail is saved not only on users' accounts but also on a separate disk. It enables restoration of files in the case of a main disk failure. The scheme is shown below: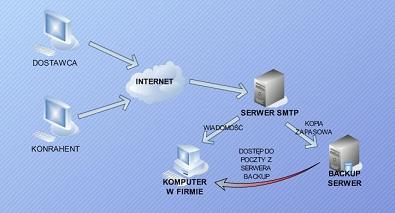 Everyday the system makes spare copies of documents in users' catalogues as well as in public and temporary space. Once a week backup of a whole disk plus information is carried out. For this purpose we applied a growth method. It minimalizes time needed for creating copies by the update of backup, but only with the files that had been changed since previous operation.
Configuration and administration
Well thought project of a system enables easy and quick implementation, and integration with existing systems. We are able to manage remotely your technical infrastructure and to configure it in accordance with your suggestions conveyed by the telephone or e-mail. A method of maintenance of the system and devices by paying a fixed fee allows you to economize on IT experts.
Supplements
The system was created as flexible for modifications and improvements according to wishes and needs of Clients. Model configurations may contain:
VPN
It is so called private virtual network which enables data exchange between final users through the public network (such as the Internet) in a way that knots of this network are transparent for packages being sent. It enables safe usage of the domain of a company from any place in the world.
Egroupware
It is an opensource web application which we integrate with our system to standardize accounts and authorization. It has many functionalities that improve groupwork:
Address book
Tasks calendar
Group calendar
The system of administration of problems
Why Makalu?
Economy
Thanks to the application of open-source software we economize on buying expensive licensed applications
Sharing resources and better communication allows saving tones of paper for correspondence as well as non-interchangeable but precious quality - time
The possibility of remote management of infrastructure by our company allows you to resign the regular IT specialist and to keep costs of maintenance and administration of devices to a minimum
Safety
Modern anti-virus systems and firewalls protect your company from external attacks
Tested and dependable technologies of authentication of users guarantee access to resources for people we selected
Possibility of assigning specific resources to selected users and their groups allows securing important data from less trusted workers
Flexibility
Smartly designed system and universality of applied software allows implementing a product in every company independently of a system, software and platforms
The solution can be matched easily with continuously changing needs and goals of the enterprise. It is possible to modify existent and implement new functionalities
It is possible to implement successively subsequent packages together with the development of a company
Improvement of business processes
Workers are able to communicate with themselves quickly and to gain access to the same data regardless of location
New workers and new teams gain access to essential information immediately, which shortens the process of implementation and reorganization
The possibility of better coordination of tasks and adjustment of calendars